Home
|
Features and Articles
|
El Nino Winter 2009 - 2010
CURRENT EL NINO CONDITIONS ARE EXPECTED TO STRENGTHEN AND PERSIST INTO THE WINTER AND INTO 2010.
Snowboarding: September 21, 2009 - First Day of Fall... More Snow for the Pacific Northwest from September 2009 THROUGH April 2010. Below Normal Snow for the Mississippi and Ohio Valleys from Dec 09 to May 2010.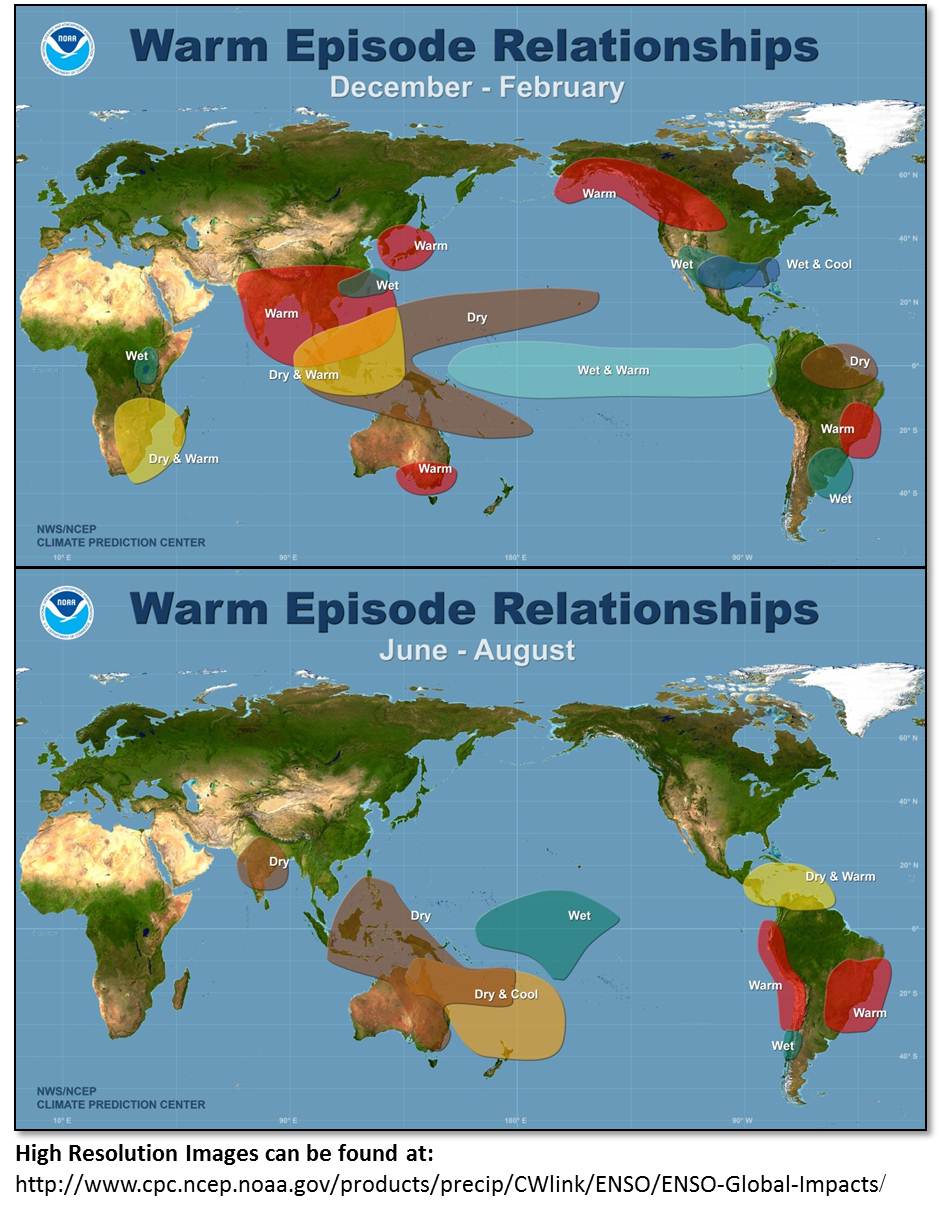 During an El Nino Event such as predicted for The Winter of 2009-10, the Easter Pacific Sea Surface temperatures are deeper and warmer than during non El Nino winters. The warmer water off the west coast of the Americas tends to draw the Northern Jet Stream out the Pacific Northwest down across Central and Southern California increasing the potential for increased storm strengths and participation. Areas that are usually wet become warm and dry and vise versa. Click the image above to enlarge and see the changes which are predicted to occur.
During winter in the Northern Hemisphere, El Niño episodes feature a strong jet stream and storm track across the southern part of the United States, and less storminess and milder than average conditions across the northern part. El Niño episodes are associated with exceptionally stormy winter and increased precipitation across California and the southern United States, and less stormy conditions across the northern part of the country. Also, there is an enhanced flow of marine air into western North America, along with a reduced northerly flow of cold air from Canada to the United States. These conditions result in a milder than normal winter across the northern states and western Canada.
What does this all mean? We'll just have to wait and see. Get your gear in order, perform necessary maintenance or simply buy NEW! Because Winters Coming!
Check out the latest
2010 Snowboarding Equipment and Gear
Cheap Snowboard (s)
or Stop by the
Snowboarding Buyers Guide